HOW DOES IT WORK?
LENOVO Amazon.co.uk Gift Card** PROMOTION
Buy at least two of any eligible Lenovo ThinkPad/ThinkBook/Winbooks together with at least one eligible Lenovo accessory or one eligible Lenovo ThinkVision monitor for a minimum net purchase price of £ 45.
Buy eligible Lenovo products.
Fill the online registration form.
And get your Amazon.co.uk Gift Card** sent.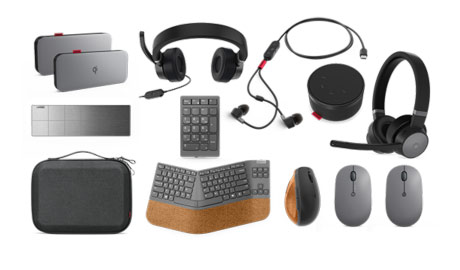 THINK THINKPAD/THINKBOOK/WINBOOKS.
THINK CASHBACK.
Be ready for big savings and big benefits with our special Lenovo Think PCs promotion. Get 30% cashback on the net purchase price of selected Lenovo accessories and ThinkVision monitors with a purchase of at least 2 Lenovo Think PCs (ThinkPad/ThinkBook/ThinkCentre).

You have all the advantages of the Lenovo Think PCs, with its premium performance and legendary reliability, plus the convenience of a selected Lenovo ThinkVision monitor or other great Lenovo Think accessories, like Lenovo headsets, keyboards and more to improve productivity – and you save money!

Extend the power of your Think PCs with our great cashback deal.

You have to buy at least two ThinkPad/ThinkBooks/ThinkCentre (any mix of models) or two eligible Winbooks together with at least one accessory or one of the selected ThinkVision monitor. The value of the Amazon.co.uk Gift Card is determined based on the net purchase price paid for the accessories and the monitors applying a percental value of 30%. Each customer can get an Amazon.co.uk Gift Card with a max value of £ 270 over the whole promotional period.

NEW: Special offer on Lenovo Winbooks for Schools and Universities! Get an Amazon.co.uk Gift Card to buy books or accessories for your students!
ELIGIBLE LENOVO PRODUCTS