HOW DOES IT WORK?
Buy & Try the best Lenovo Quality without risk. In case the product shouldn't meet your expectations, send it back and get a full refund.
Buy an eligible Lenovo product and register it.
Not convinced? Then send it back and get a full refund.
Lenovo helps teams collaborate better, from wherever work gets done
Combining innovative technology with personalized services, Lenovo ThinkSmart solutions will improve the way employees work together in today's work-from-anywhere world.
Make collaboration more productive with smart devices that meet your team's unique needs and with options for a variety of platforms and room sizes.
Collaborate, communicate, and share fearlessly with Lenovo ThinkSmart.
ThinkSmart One - The world's first Windows-based all-in-one collaboration solution
Immersive collaboration is a must in today's hybrid workforce. That's why Lenovo has designed ThinkSmart One, the first and only Windows-based all-in-one (AIO) bar on the market. Combining the high-resolution camera with wide field of view, premium sound for lifelike clarity, and powerful compute running Microsoft Windows, this device is ideal for small and medium spaces. Plus, the intuitive ThinkSmart Controller, a 10.1-inch, 10-point touch HD display with anti-glare and anti-fingerprint coating, gives you one-touch join to keep your meetings effecient and productive.
Certified for Teams or Zoom and preloaded with ThinkSmart Manager software1, ThinkSmart One is powered by 11th Gen Intel® Core™ vPro™ processors with Intel® Iris® Xe graphics for next-level collaboration. Sharing content on a conference call and running multiple displays is no problem. And with camera, sound, and compute combined in a single device, installation is a snap. Whether ThinkSmart One is set up in a huddle space or medium conference room, its digital clock, modern design, and minimal cables deliver a clean and tidy aesthetic.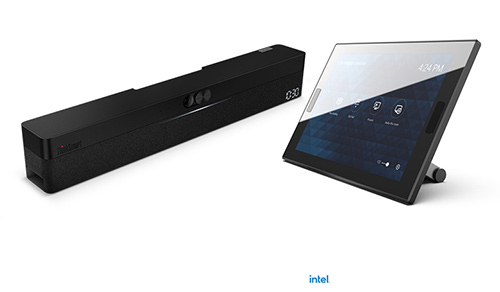 Lenovo ThinkSmart Core Kits – Fit any room size or configuration
Productive meetings without technical difficulties can become a new norm. Lenovo's ThinkSmart Core Kits have everything you need to create more immersive collaboration spaces—all in one box. With a powerful compute and user-friendly controller, employees in the office can connect, share, and collaborate securely with colleagues working remotely.
ThinkSmart Core kit options: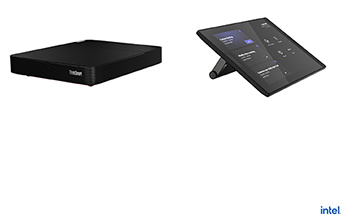 ThinkSmart Core + Controller Kit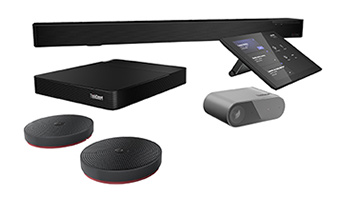 ThinkSmart Core Full Room Kit, which includes: Core + Controller plus ThinkSmart Cam and ThinkSmart Bar XL
All the components of a better meeting, all in one box
Lenovo Google Meet Series One
Room Kits from Lenovo
Series One room kits include all the components you need to create modern workplace collaboration spaces. These all-inclusive room kits are easy to shop for, easy to install, and easy to maintain.
Thoughfully designed with an approachable aesthetic, Series One room kits are available in three different sizes. More importantly, they are the first kits of their kind to carry the Series One designation, thanks to unique features like onboard-AI and enterprise-grade components.

Small To Medium
Lenovo ThinkSmart Hub
The Lenovo ThinkSmart Hub is the smarter way for teams to collaborate.

*Lenovo ThinkSmart Hub 500 also eligible.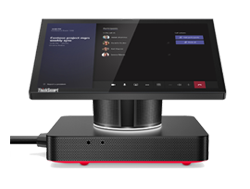 Lenovo ThinkSmart Cam
A SMART camera designed with Collaboration and Videoconference in mind.Its high-resolution and wide field-of-view, coupled with smart features, like auto-framing, auto-zoom, people counting and whiteboard awareness, makes ThinkSmart Cam the smart choice for easily and efficiently connecting today's workforces in the office and beyond.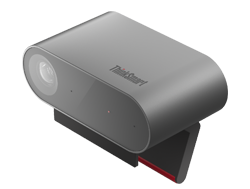 Lenovo ThinkSmart Bar XL
2 satellite microphones with 6m cables are included with the ThinkSmart Bar XL. The new ThinkSmart Bar XL creates an immersive, productive space where people feel as if they are all in the same room. ThinkSmart Bar XL is designed for Collaboration conferencing and can be paired with a compute, or used alone as a standard plug-and-play device. It can accommodate room sizes up Xtra Large meeting rooms and boardrooms. Certified compatibility with Microsoft Teams Rooms and Zoom Rooms.

Lenovo ThinkSmart Bar
With its outstanding audio quality, exceptional scalability, and plug-and-play manageability, ThinkSmart Bar easily and efficiently connects today's workforces in the office and beyond. Speaker and mic range up to 8,5m can accommodate a wide range of room sizes from home offices and small spaces to Large meeting rooms and boardrooms. Certified compatibility with Microsoft Teams Rooms and Zoom Rooms.