HOW DOES IT WORK?
Buy & Try the best Lenovo Quality without risk. In case the product shouldn't meet your expectations, send it back and get a full refund.
Buy an eligible Lenovo product and register it.
Not convinced? Then send it back and get a full refund.
Explore Lenovo's products to start building a smarter workplace
Space Matters
From cubicle to conference room, Lenovo offers the right tool for the right environment.
With comprehensive, turnkey solutions, Lenovo designs a variety of products to boost productivity, engagement, and communications for rooms of all sizes and projects of any kind.
Small To Medium
ThinkSmart Hub 500
The ThinkSmart Hub 500 is the smarter way for teams to collaborate.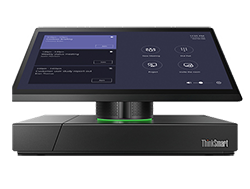 Personal view
ThinkSmart View
Meet your new productivity sidekick. ThinkSmart View is designed for desktop phone replacement, individual phone booths, the home office and more.