HOW DOES IT WORK?
Buy & Try the best Lenovo Quality without risk. In case the product shouldn't meet your expectations, send it back and get a full refund.
Buy an eligible Lenovo product and register it.
Not convinced? Then send it back and get a full refund.
Lenovo helps teams collaborate better, from wherever work gets done
Combining innovative technology with personalized services, Lenovo ThinkSmart solutions will improve the way employees work together in today's work-from-anywhere world.
Make collaboration more productive with smart devices that meet your team's unique needs and with options for a variety of platforms and room sizes.
Collaborate, communicate, and share fearlessly with Lenovo ThinkSmart.
Small To Medium
Lenovo ThinkSmart Hub
The Lenovo ThinkSmart Hub is the smarter way for teams to collaborate.

*Lenovo ThinkSmart Hub 500 also eligible.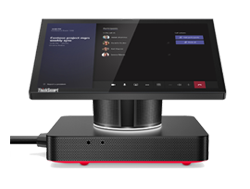 Personal view
Lenovo ThinkSmart View
Meet your new productivity sidekick. Lenovo ThinkSmart View is designed for desktop phone replacement, individual phone booths, the home office and more.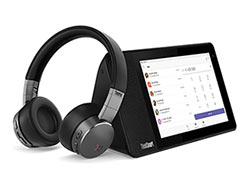 All the components of a better meeting, all in one box
Lenovo Google Meet Series One
Room Kits from Lenovo
Series One room kits include all the components you need to create modern workplace collaboration spaces. These all-inclusive room kits are easy to shop for, easy to install, and easy to maintain.
Thoughfully designed with an approachable aesthetic, Series One room kits are available in three different sizes. More importantly, they are the first kits of their kind to carry the Series One designation, thanks to unique features like onboard-AI and enterprise-grade components.